Women's Pin Check Scrub Pants
PROPER FIT - TIPS
Measuring correctly is the key to a perfect fit!

Having someone help when taking your measurements is recommended.

Please read our guide on how to accurately measureor send a message to our Fitting Consultant below.
HOW TO MEASURE
The nude size is the size of your body without clothing.
We recommend you to choose a lab coat that fits your body for a comfortable fit.
[Bust]

Measure the circumference horizontally, in level with your armpits over the scapulae.

[Waist]

Measure the circumference horizontally, a little higher than your belly button. For those with a larger waist, measure the largest part of your waist.

[Shoulder Width]

Measure from the base of the back of your neck to the pointed edge of your shoulder. Double that number.
EMBROIDERY INSTRUCTIONS
PLACEMENT:
Embroidery is stitched on the left upper chest of each jacket, with one exception: the Casey. Due to a pocket on the left side, embroidery on the Casey is placed on the right upper chest.
FONTS AND SIZES:
Currently, we are able to offer two choices for fonts: block and script. The general font size is 8mm.
TEXT:
We can embroider up to two lines of text.
The top line should be your name, constructed like:[First Name or Initial] [Last Name], [Suffixes]. The second line typically features your department, practice, specialty, group or other affiliation.
Please enter the information in the embroidery order form beneath the item you are ordering. There is an 16-character maximum.
We partner with several embroiderers in Japan and the US, which can appear slightly different than the embroidery finish as shown on our samples. We carefully position each embroidery, so the text is visible. But depending on the character and lab coat style, the lapel may partially cover the text. Please note our 18-character limit, including spaces, to achieve the best embroidery placement.
NOTES:
Embroidery can add an extra 5 – 7 days to your order. Embroidered items cannot be returned or exchanged. If you are  unsure about your size, we recommend you order without embroidery.
Details
Another Classico "yarn-dyed" scrub series that combines a luxurious feel with functionality.
Pin Check Scrubs are the second in Classico's "yarn-dyed" scrub series.
The yarn is dyed at the yarn stage, making it resistant to color fading and maintaining dye strength to withstand hypochlorous acid water, the main ingredient in bleaching agents. In addition, the use of "yarn-dyed yarn" reduces water consumption, energy consumption, and CO2 emissions in the production process compared to conventional post-dyed fabrics, making it a sustainable item that also contributes highly to environmental impact measures.
The deep hues and rich expressions unique to yarn-dyed fabrics are also a main feature of the series. A delicate and classical pin check with a luxurious feel not found in conventional scrubs is expressed by applying special processing to the yarn to achieve a wool touch.
It has a supple and soft feel. While the stretch is modest, it has functional properties such as non-ironing, water absorbency, quick drying, and wash durability.
Made of sustainable and luxurious fabric Scrub pants with a feminine silhouette
Since the fabric has a menswear-like feel, the design and shape are feminine with a beautiful tapered silhouette. Its material has just the right amount of firmness that covers the lines of the legs nicely. The hip and thigh areas are designed to be comfortable and not too tight.
It has double pockets on the left and right sides, with a small pocket perfect for holding a personal seal, lipstick, or other small items.
Three colors are available: blue, beige, and brown, with the beautifully deep and shaded coloring created by the yarn-dyed fabric.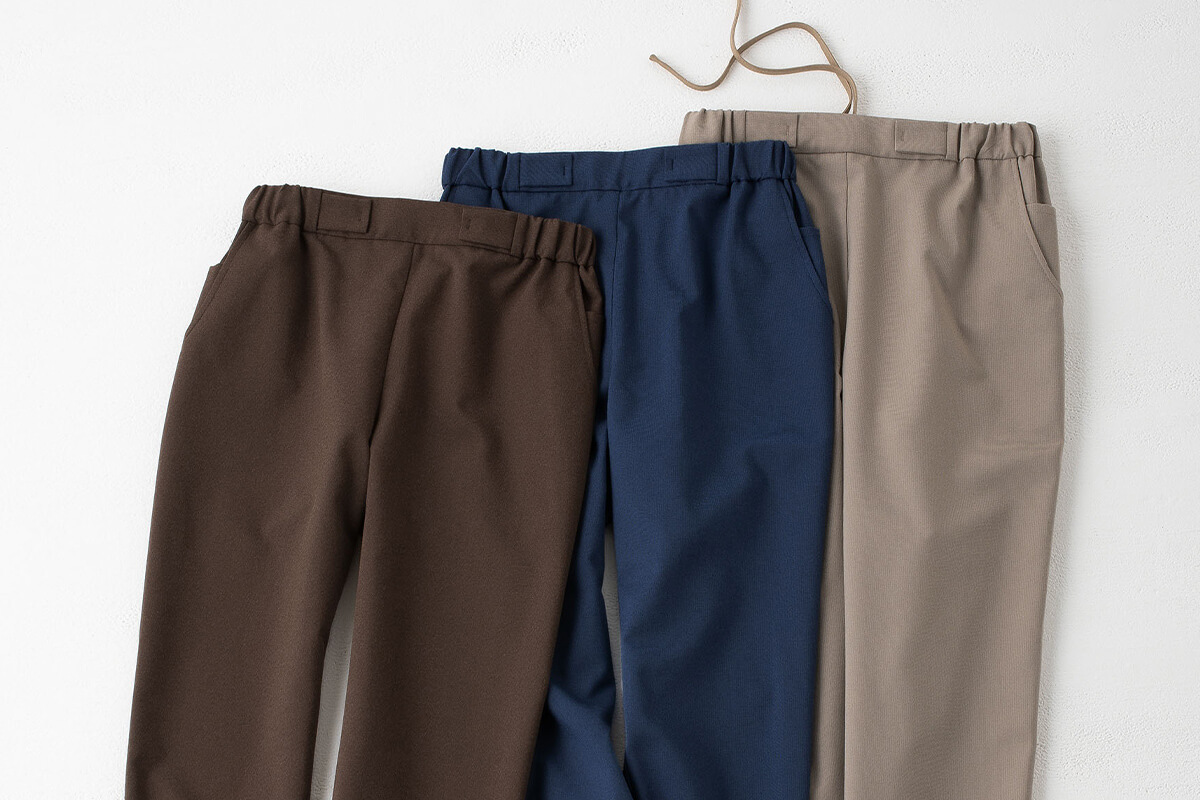 Item Number: L06
Colors: Blue, Brown, Beige,
Sizes: S, M, L, XL, XXL
Material: 100% Polyester, non-iron, super absorbent and quick-drying, antistatic.


Size Guide
Body Measurements (in inches)
| | | |
| --- | --- | --- |
| JP Size | Waist | Hip |
| S | 〜26 1/4 | 〜35 |
| S | 〜26 1/4 | 〜35 |
| M | 25〜27 1/2 | 35〜36 |
| L | 26 1/4〜28 3/4 | 36〜37 1/4 |
| XL | 27 1/2〜30 1/4 | 37 1/4〜38 1/2 |
| XXL | 29 3/4〜32 3/4 | 38 1/2〜39 3/4 |
Garment Measurements (in inches)
| | | | |
| --- | --- | --- | --- |
| Size | Waist | Hip | Inseam |
| S | 24〜26 1/4 | 37 | 27 1/2 |
| M | 25〜27 1/2 | 38 1/4 | 28 |
| L | 26 1/4〜28 3/4 | 39 1/2 | 28 3/4 |
| XL | 27 1/2〜30 1/4 | 41 | 29 1/4 |
| XXL | 29 3/4〜32 3/4 | 42 3/4 | 29 1/4 |