Scrub Canvas Club:Yoshinori Mizutani Scrub Pants (Unisex)
PROPER FIT - TIPS
Measuring correctly is the key to a perfect fit!

Having someone help when taking your measurements is recommended.

Please read our guide on how to accurately measureor send a message to our Fitting Consultant below.
HOW TO MEASURE
The nude size is the size of your body without clothing.
We recommend you to choose a lab coat that fits your body for a comfortable fit.
[Bust]

Measure the circumference horizontally, in level with your armpits over the scapulae.

[Waist]

Measure the circumference horizontally, a little higher than your belly button. For those with a larger waist, measure the largest part of your waist.

[Shoulder Width]

Measure from the base of the back of your neck to the pointed edge of your shoulder. Double that number.
EMBROIDERY INSTRUCTIONS
PLACEMENT:
Embroidery is stitched on the left upper chest of each jacket, with one exception: the Casey. Due to a pocket on the left side, embroidery on the Casey is placed on the right upper chest.
FONTS AND SIZES:
Currently, we are able to offer two choices for fonts: block and script. The general font size is 8mm.
TEXT:
We can embroider up to two lines of text.
The top line should be your name, constructed like:[First Name or Initial] [Last Name], [Suffixes]. The second line typically features your department, practice, specialty, group or other affiliation.
Please enter the information in the embroidery order form beneath the item you are ordering. There is an 16-character maximum.
We partner with several embroiderers in Japan and the US, which can appear slightly different than the embroidery finish as shown on our samples. We carefully position each embroidery, so the text is visible. But depending on the character and lab coat style, the lapel may partially cover the text. Please note our 18-character limit, including spaces, to achieve the best embroidery placement.
NOTES:
Embroidery can add an extra 5 – 7 days to your order. Embroidered items cannot be returned or exchanged. If you are  unsure about your size, we recommend you order without embroidery.

Scrub Canvas Club
Enjoying scrubs as a canvas.
This Classico new scrub line was created with the idea of "bringing smiles to the medical field" through collaboration with artists, photographers, movies, music, characters, etc., that transcend the "scrubs" that busy medical professionals wear every day into a canvas.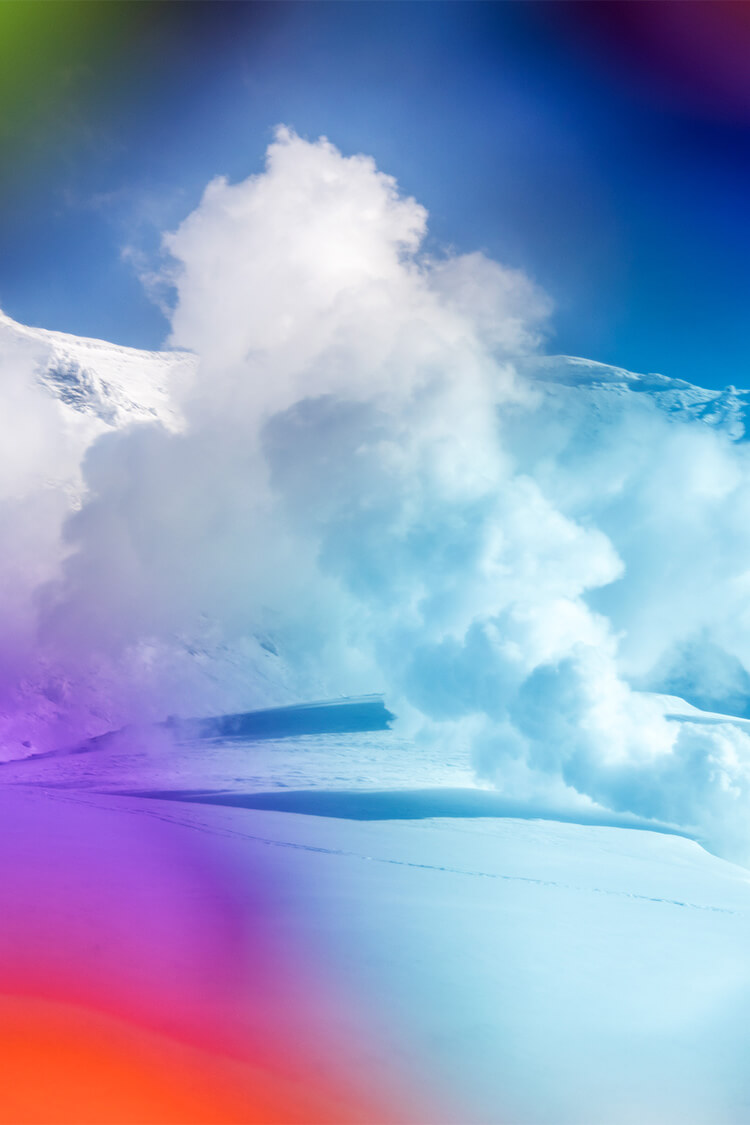 Details
A Collaboration item with the photographer "Yoshinori Mizutani."
These unisex scrub pants incorporate the beautiful winter scenes of Hokkaido's natural beauty that attract the heart.
The third in the SCC series is a collaboration with photographer Yoshinori Mizutani, who takes on a variety of themes while focusing on "everyday life. In this collaboration, three of Yoshinori Mizutani's works from "Higashikawa," which was published in 2021, were selected for the scrubs.

"Higashikawa" is a work set in winter in Higashikawa, a town of photography in Hokkaido. The artist actually stayed in Higashikawa for about a week to experience nature, such as climbing snow-covered mountains and interacting with local residents, making the " Artist in Residence" program.
The three photos selected for this exhibition were created by using filtering technology to add an amazing and beautiful tie-dye-like gradation to the winter landscape of Higashikawa, which gives the winter scenery warmth and beauty.

When one is in a hospital, it is sometimes difficult to feel the change of seasons and the sun's warmth since one spends most of the daytime indoors. What if we could add brightness to the scenery of the hospital where we spend our days in scrubs?" With this idea in mind, Classico designers came across Yoshinori Mizutani's work, which gave to this collaboration.

 

Scrub pants with beautiful tie-dye artwork.
Available in both men's and women's sizes, with a slightly relaxed, straight silhouette.
They are designed to be balanced with the top and give a sophisticated impression when worn together.

The beautiful artwork by Yoshinori Mizutani is also decorated on the inside pocket pouch fabric, creating an embellishment that allows the wearer to touch the artwork every time they put it on or take it off. In addition, like the top, the inside belt is decorated with a tape in the same colors used in the artwork.



It is available in three colors: white, beige, and navy. The navy and beige color fabrics are from the "TRO" series, characterized by their light, comfortable, and tropical wool-like texture, While the white color fabric is made of the "urban tech" series fabric, which is smooth like silk and has a soft, bulky, sponge-like feel.

Item Number: R12
Colors: Beige,  Deep Navy, White
Sizes: XXS, XS, S, M, L, XL, XL
Material:
Beige&Deep Navy:100% Polyester, non-iron, super absorbent and quick-drying, Anti Static
White:79% Polyester, Composite Fiber (Polyester) 21%, Stretch, Anti Static, Non-see-through, Stain resistant, Anti Wrinkle (No Iron), super absorbent, and quick-drying.

Models:
Mens:Height 185 cm, Chest 92 cm, Waist 76 cm, Hips 91 cm
Size: M
Ladies:Height 171 cm, Chest 80 cm, Waist 60 cm, Hips 86 cm
Size:XS

Yoshinori Mizutani

Yoshinori Mizutani was born in Fukui Prefecture in 1987. After graduating from Nihon University College of Economics, Mizutani studied at the Tokyo College of Photography. He captures the everyday nature that exists in the city as if it was from a different world to the one seen by the naked eye through the medium of a camera.
He was selected for the "JAPAN PHOTO AWARD" in 2013 and "Foam Talent" in 2014. He has held solo exhibitions around the world. The works of "Tokyo Parrots" are currently on display at Tempus, a temporary building at the Palais des Nations, and the European headquarters of the United Nations in Geneva, Switzerland, until December 2024.

▷Yoshinori Mizutani |  Official website
Size Guide
Body Measurements (in inches)
JP Size
Waist
Hip
Inseam
XXS (Women)
26 3/4〜34 1/2
37 3/4
26
XS (

Women

)
28 1/4〜36
39 1/4
26 3/4
S (Men)
29 3/4〜37 3/4
40 3/4
27 3/4
M (

Men

)
31 1/2〜39 1/4
42 1/2
28 1/2
L (

Men

)
33〜40 3/4
44
29 1/4
XL (

Men

)
34 1/2〜42 1/2
45 3/4
30


Body Measurements (in inches)
JP Size
Waist
Hip
XXS (

Women

)
〜28 1/4
〜35
XS (

Women

)
27 1/2〜29 3/4
35〜36 1/2
S (

Men

)
29〜31 1/2
36 1/2〜38
M (

Men

)
30 3/4〜33
38〜39 3/4
L (

Men

)
32 1/4〜34 1/2
39 3/4〜41 1/4
XL (

Men

)
33 3/4〜36
41 1/4〜42 3/4
■
If you own Classico scrubs,
Please check the recommended sizes below.
*If you are a male and want to order size XS, please make sure to check the shoulder width and sleeve length measurements before ordering.
*The hip size is smaller than ladies' scrubs.
< Men>
Classico Size

Recommended size

S

S

M
L

M

XL

L

XXL

XL
<Women>
Classico Size

Recommended size

S

XXS

M
L

XS

XL
XXL